WHO WE ARE...
Chabad Hebrew School is a stimulating and friendly learning environment where children are instilled with a true sense of Jewish pride, a well-rounded appreciation of Judaism and a deep love for the land of Israel.
Our school is a contemporary learning center that successfully caters to Jewish families from all walks of life. We welcome every Jewish child, regardless of religious background or level of observance.
We want our students to experience Judaism as a relevant and integral part of their lives and we believe that this is best accomplished in a warm and joyous setting.
Led by a dedicated team of educators, our teaching staff makes every day of Hebrew School meaningful and exciting.
Imagine a Hebrew School where kids don't want to miss a day...
They come in with a smile and leave humming a Hebrew song. Walking around, you can hear the sounds of lively discussion, of singing, laughter and learning. Imagine a child who feels the warmth and spirit of Judaism. Imagine the pride of his/her parents.
Welcome to Chabad Hebrew School, an exciting and innovative educational program in Milford. Our school enjoys a well-earned reputation as a trend setter in creative Jewish education for children ages 5 - 13. Chabad Hebrew School boasts a dynamic staff, interested students and an array of exciting programs for youth and families. Our student body is made up of children from various backgrounds and affiliations.
We also have the exciting new "Preschool Hebrew School." The Preschool Hebrew School program is for children ages 3-5. For more information about this program, please click here.
Click here to register online. Tuition is affordable and NO synagogue membership is required: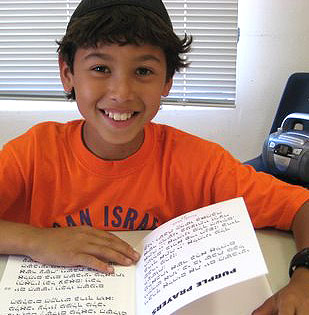 We are confident that by the year's end, along with Hebrew reading, Jewish holidays, and other Jewish topics, your child will have developed a deep love and respect for our precious heritage, as well as a strong Jewish pride. At Chabad we make Hebrew School the beginning of Jewish learning, not the end.
I am available anytime to answer any questions, discuss anything regarding Hebrew School or any of our programs for youth & families. Please call (508) 473-1299 or email me at: [email protected], if you want to discuss anything.

Looking forward to an enjoyable and successful school year together.
Come visit and see why Chabad Hebrew School is the best choice for your family!
Rochy Kivman
Director